Our "Customer Service Team" and Premium Pet Supplies
(scroll down for a list of pet foods we stock)
Anyone stopping by Wild Birds Unlimited knows we love our pets as much as we love nature and we are happy to be able to share them with you when you stop by our nature shop.
Lewis

In June 2012, we had been helping Sangamon County Animal Control by fostering and successfully finding homes for a string of kittens from the shelter.
Just days before our elderly cat, Flynn, passed away, a shy little black kitten happened to arrive into our store. Well, in his final days, Flynn must have shared a few kitty secrets with Lewis, because Lewis quickly blossomed into the most outgoing and personable of kittens, worming his way into our hearts and making our shop his home.

Being a rather bright cat, Lewis also writes his own Ask Lewis Q&A column in our e-Newletters. Be sure to sign up to receive them.


Whether chasing raindrops on TV or relaxing with a customer, Lewis knows how to enjoy himself.


Martin

In October 2012, we assisted the Forever Home Feline Ranch with a fundraising event and fostered young cats available for adoption. Martin made himself so comfortable at WBU that when the event ended and he had yet to find a home, we decided he needed to stay, joining Lewis as a permanent resident.
Assistance Dogs

We volunteer for Canine Companions for Independence by fostering and training puppies slated to one day be assistance dogs for people with disabilities.


Pictured here is Patricia, the 6th puppy we raised for Canine Companions for Independence. She now lives and works with her partner in Indianapolis.

Learn more about etiquette around service dogs and dogs-in-training.


CLICK HERE TO WATCH VIDEO CLIPS OF ASSISTANCE DOGS IN ACTION!

Need Help Training Your Own Dog?

• Judy Williams of Judy's Dog Training 101 is one of the trainers we use while training our pups. Her enthusiasm and positive approach can get your new pup off to the right start. She can also help improve the manners or behavioral issues of any dog not matter it's age. She offers both group classes and private, in-home lessons.


dog.training101@yahoo.com
(217) 245-1758
on Facebook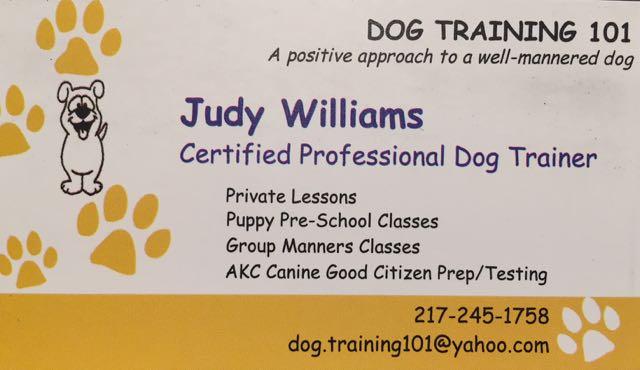 • Lisa Potts of Red Dog Training is another enthusiastic trainer with whom we work. She also teaches classes to prepared dogs and their handlers for the sport of canine agility.


Pet Products
| | |
| --- | --- |
| Stuff a pickle pocket with food or treats to create a challenging puzzle for your pooch. | The GREEN FEEDER work with any size dog or cat. It turns meals into a challenging game, exercising your pet's mind. It prevents eating too quickly, making mealtime healthier. And when they have to work a bit for their food, eating more slowly can benefit pets on calorie restricted diets. |
• Enrichment Toys (like the Pickle Pocket and Green Feeder above)
• Many types of treats and chewies, none produced in China.
• Cat Litter
• Healthy Dog and Cat Foods, including:
Orijen, Acana, Legacy, Pulsar, Fromm, Dave's, Stella and Chewy's, and American Natural Premium Pet Foods
For your pets, we offer premium dog and cat foods. Made only with the highest quality ingredients, these lines offer tastes your pets will love and nutrition they deserve. Available in traditional or grain-free formulas. Stop in for your free sample.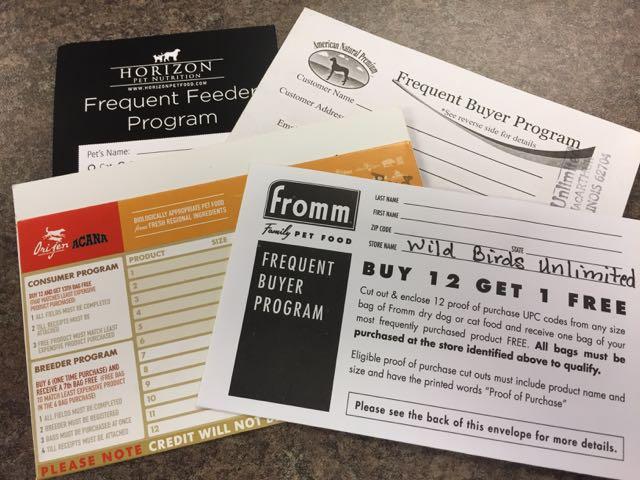 Ask for your FREQUENT SHOPPER CARD when you purchase your pet food.
Program may vary by brand, details in store.
Also in stock - Select Varieties of:
Acana

Lotus (wet)
Grandmae Mae's (wet)

Party Animal Organic (wet)

More Premium Pet Food Options

Don't see your pets favorite food above? You may want to try some of the brands we have in stock (we have free samples for your pet to try) or we can easily special order any of the brands listed below. Each week we get 1-2 shipments from our food suppliers, so it is very easy for us to add a bag or case of cans of your pet's favorite food to our order. While would love to be have more lines in the shop, our space is limited so we will continue to evaluate favorites to see what else we may try to squeeze in.

Special Order Foods:
Acana (a few varieties in stock)
Addiction Pet Foods
Against the Grain
American Natural Premium (original formula and a few other varieties in stock)
Applaws
Canidae
Dave's (many canned formulas in stock)
Dr. Harvey's
Evanger's
Felidae
Fromm (tops sellers in stock; dozens of others available)
Great Life
Healthy Dogma
Lifetime by Nutreco
Lotus (Canned Turkey Cat in stock)
Mulligan Stew
MURR/URR of Iceland
Nature's Logic
Oracle
Pioneer Naturals
Power Edge by Red paw
Pure Vita (chicken cat food in stock)
Premium Edge
Red Barn
Red Paw X-Series
Solid Gold
Taste of the Wild (Cat food in Stock)
Vital Essentials freeze dried
Wholesome Blend by Nutreco
ZiwiPeak

Our suppliers add new brands frequently and not all brands may be on this list, so if there is another brand you are searching for, check with us and we will see if we can order it for you.