We will be closed 4th of July.
Open July 5th, Noon - 4.
Meeting Your Birds' Nesting Needs
A new generation of birds will soon be entering the world, and the food and housing we provide can make a significant difference on how well they will thrive and survive in our own backyards.
Recent research studies show that birds with access to bird feeders often lay their eggs earlier than those without feeders. This is significant because earlier broods typically have better rates of survival and fledging success than later ones.
Feeders also allow breeding females to spend less time searching for food and more time selecting better nesting sites and constructing higher quality nests. The adults will also have more time available for protecting their nest, eggs and young from predators.
When abundant food is accessible to parent birds it means that more food is provided to their chicks. Studies have shown that this extra nutrition reduces aggression among nest siblings and increases their rate of growth.
Choice Plus with Calcium
Our "Plus" Blends boost the energy needs of active parent birds with a blend of sunflower, sunflower chips, safflower, nuts, and dried fruit. Research shows females actively seek out calcium sources in preparation for egg laying, so we've added calcium to this timely blend.
But food is not the only key in helping birds to nest successfully in your yard. A properly designed and installed nesting box can make a significant improvement in nesting success, especially during extreme periods of cold and damp weather.
Mealworms

Insects are a staple of many birds' diets, and the primary food for most baby birds. Offering live mealworms gives you another opportunity to help the birds during the stressful breeding season.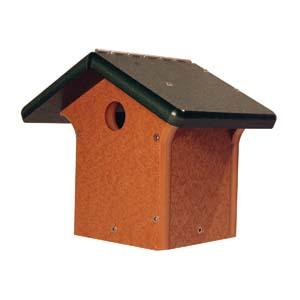 WBU Wren, Chickadee, and Bluebird Houses
We stock dozens of styles of quality birdhouses, both decorative and purely functional, for these species and many others. Our most popular are the bluebird house above and the wren/chickadee house to the right. Both feature a hinged top, akin for easy nest inspection and a flip side for clean-out. No screwdriver required! Choose from traditional cedar or Eco-Tough, made from recycled plastic bottles and resistant to rot or fade. All have proper ventilation, wide eaves for rain protection, ample drainage, and holes sizes specific to the species we are trying to attract.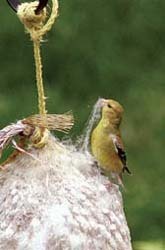 Nesting Material Balls
Filled with natural, unprocessed cotton fibers, these nesting balls are used chickadees, finches and more to line their nests. You can also stuff empty suet cages or peanut rings with pet hair (providing you have used no flea products) or short strands of unravels twine or rope (natural fiber and colors only). NEVER use dryer lint as it clumps and becomes sticky if damp, and may contain chemical residue.
Now is the time to take action for the next generation of birds in your yard and it's also a great time to have the next generation of kids come outdoors and help. April is Children & Nature Awareness Month, go to: childrenandnature.org or greenhour.org for more information.
* Please note - This page is written by WBU of Springfield, Illinois. We are locally owned and operated. We specialize in local service and do only a limited amount of shipping. For those not within driving distance, you can call us at 217-789-6468 to order products. If you choose to e-mail us instead, please include full name and address as these are needed to calculate shipping charges. Or, you can find a WBU near you on the store locator. (Each WBU is independently owned and product offerings may vary. Product offerings on the wbu.com on-line store are much more limited than in our local shop and generally higher priced than our local, midwest-based pricing, so shop in person when you can. Thanks, and happy birdwatching!)