Have trouble keeping up with nectar changes?


Feeder Fresh Nectar Defender Can Help!
- Keeps nectar from spoiling as quickly, allowing you to go from the usual routine of changing nectar every 3 days to once a week or so. Perfect for busy schedules, the elderly, vacations, etc.
Late Summer and Early Fall is the Best Time of the Year to See Hummingbirds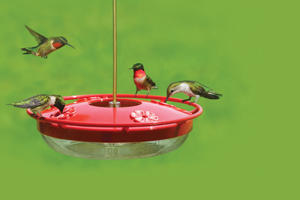 High Perch Hummingbird Feeder (Above)
No Dripping • No Bees • No Ants


Mini High Perch Hummingbird Feeder (Below)
The Mini High Perch™ Hummingbird Feeder may look little, but its payoff is big when it comes to feeding the hummingbirds in your yard. Using several of these small feeders, placed out of sight of one another, can help cut down on the fighting between birds, while also giving you opportunity to watch hummingbirds from several locations in your house.
KEEP THOSE FEEDERS UP!
August - October is peak hummingbird season in Central Illinois. This is when all the babies have left the nest, so the population is higher. Birds from the northern states and Canada will pass be passing through our area. Additionally, all the birds need to prepare for fall migration, when many of them will eventually fly non-stop over the Gulf of Mexico, by feeding more frequently to build up a layer of fat that will provide them with energy as they travel.

Placing several feeders in your yard, but ideally out of sight of one another, will help cut down on squabbles at the feeder. This allows even more hummingbirds to visit your yard.

See more tips for attracting hummingbirds by clicking on the tabs shown on the left.
*note - It is a myth that leaving feeders up in late summer or autumn will keep birds from migrating. Studies have proven it is the shorter daylight hours that trigger migration, not food availability. In fact, in bad weather, your feeders can give the birds a much needed boost to help them in their travels. Keep hummingbird feeders out until the end of October.