Bird Health and Feeder Cleaning
May 31, 2022

RE: Avian Flu and bird feeding in Illinois
Avian Flu Update: It's OK to feed the birds! 🙂
While it has been acceptable for most people to feed songbirds as long as there were no poultry or waterfowl near your feeders, Illinois Department of Natural Resources has sent out the official notice lifting their no-feeding recommendation. See the full notice and recommendations here. As always, for the general health of the birds, feeders should be cleaned regularly. See more details on cleaning and routine feeder maintenance below.
There were many people who were confused on the topic, so please tell your bird loving friends to help us get the word out to all bird lovers that it is OK to feed the birds.
Feeder Maintenance Tips:

It's important to follow everyday healthy feeder maintenance practices:
• Wash feeders frequently and disinfect with a 10% bleach-water solution.
• Provide an appropriate number of feeders spaced far enough to minimize crowding.
• Maintain tidy feeding practices that minimize food falling to the ground so as to not attract waterfowl. (*If you live near a pond or lake and ducks or geese come to graze under your feeders, stop by WBU and talk to us. We can help you create a plan for your yard that ensures no food falls to the ground to attract the waterfowl. With appropriate catch trays, specific seeds, and solid No-Mess Cylinders, we can make it unwelcoming to the waterfowl while still allowing your to feed songbirds. Tip: take a photo of your yard and feeder set-up.)
• If you own poultry, follow this guidance from the USDA.
• As with any bird or animal, wild or domestic, it is always prudent to take sensible precautions after direct or indirect contact. Be careful around animal droppings or water
used by birds and animals or after filling feeders or baths; wash your hands with soap and water after contact. The US Centers for Disease Control and Prevention and the Public Health Agency of Canada currently deem H5N1 to be of low human health risk.
Here's a short video on how to properly clean feeders.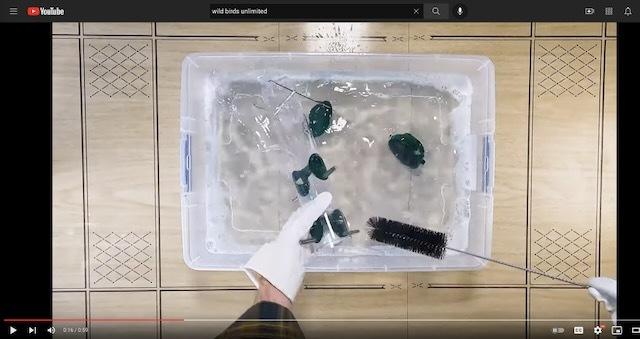 April 25, 2022
What You Need to Know
Here are the facts as we know them today.
Since Fall of 2021, a highly pathogenic avian influenza (HPAI H5N1) has been detected in numerous outbreaks in North America. It is a naturally-occurring virus especially prevalent among wild aquatic birds such as ducks, geese and shorebirds and has been shown to affect commercial and backyard poultry with high mortality.
• However, according to the Cornell University Wildlife Health Lab, "Passerines [song birds] do not seem susceptible to HPAI and are not thought to play a significant role in spreading this virus. We are not recommending removal of bird feeders at this point."
• In a detailed article, The Cornell Lab states "There is currently very low risk of an outbreak among wild songbirds, and no official recommendation to take down feeders unless you also keep domestic poultry, according to the National Wildlife Disease Program."
• And the Institute for Infectious and Zoonotic Diseases at U Penn Vet School states, "According to the USDA, there is no evidence that birdfeeders, or the birds that frequent them, contribute to the spread of HPAI."
• US Department of Agriculture further states, "HPAI viruses and the illness they cause are not commonly found in wild birds…removing backyard feeders is not something USDA specifically recommends to prevent avian influenza unless you also take care of poultry." Also, the Government of Canada affirms, "The use of bird feeders is still safe but they should be removed from areas that are open to poultry and other domestic animals."
• In addition, the US Centers for Disease Control and Prevention and the Public Health Agency of Canada currently deem H5N1 to be of low human health risk.