Wildlife Rescue - Who to Call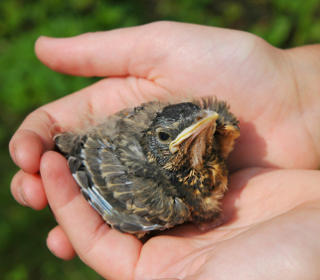 How to Help Without Hurting

If you have found a baby bird or mammal, or see an injured animal, it is human nature to want to help. But before you do, check to see if intervening with nature is really the right thing to do. The vast majority of the time the animals do not need our help.
In the case of babies, more often than not, there are one or more parents nearby, but staying out of sight. Baby birds often leave the nests before they can fly, but will spend days hopping around and finding cover in bushes. Mom and dad will find them and care for them. Featherless babies who have fallen from their nests can be placed back in the nests. (It's an old wives tale that birds or mammals will abandon their young if you touch them.) The best help you can give is to keep kids and pets away so the parents can do their jobs. Because baby birds are such easy targets for cats, please help us spread the word about keeping kitties indoors during the nesting season.
At Wild Birds Unlimited, we are experts are helping you attract birds to your backyard, but we recommend leaving the rescue and rehabilitation of birds and animals to the specialists who are licensed to do so. Below are several Illinois wildlife rescue organizations you may want to contact for more information. Before you call, check out their websites for excellent information about when you should or should not try to help.

*NOTE - Spring and summer are extremely busy seasons for wildlife rehabilitators and most run on limited staff, rescources, and volunteers. As they may be busy helping the animals in their care, do not be surprised if you have to leave a message and have someone get back to you.
Illinois Rehabilitators ( <- click for map of rehabilitators with legal permits)
*Before you call, take note of the types of permits they possess and animals they treat. As of Spring 2023, the individuals listed in Sangamon county are licensed for some mammals, but NOT birds or deer, meaning you may have to look farther away for assistance. Only people with the proper rehabbing permits may have native* wildlife in their possession.

University of Illinois, Urbana, IL - Wildlife Medical Clinic
217-244-1195


Treehouse Wildlife Center, Dow, IL - Found an Animal?
618-466-2990

Illinois Raptor Center Homepage see their brochure How to Help Without Hurting
217-963-6909
(specializing in birds of prey)
IRC provides a convenient link of "by county" rehabbers for Illinois.

*Non-native species: Starlings, House Sparrows, and Pigeons -
It's worth noting that there are three species not protected by federal laws: House sparrows, European starlings, and Rock (common) Pigeons are not native to North America and a permit is not needed to help them. We still recommend the above advice of letting the parents raise the babies whenever possible. However, for birds that do need help, not all rehabbers have the time or space to take in non-native species, so we provide the links below to give other options.
StarlingTalk.com - starlings and house sparrow care
Pigeon.org - found a lost domestic pigeon (with a leg band)?