30th Anniversary Celebration


As we celebrate 30 years since we opened our doors in Springfield, we invite you to stop by and help us celebrate.
October 8th - 14th

Register for Door Prizes:
• 6' Tall Art Pole

• Stained Glass Bird Bath

• Advances Pole System Boxed Sets
October 14th
Enjoy refreshments, reminisce over our memory wall, and catch up with our WBU family form 10:00 am - 4:00 pm.

10:00 am - 1:00 pm, Book Signing with Ken Keffer*, author of:
• Kids' Outdoor Adventure Book: 448 Great Things to do in Nature Before You Grow Up is a seasonal guide to outdoor fun and activities targeting ages 8-12 years old, or for the young at heart.
• Earth Almanac: Nature's Calendar for Year-Round Discovery is a nationwide greatest hits of nature throughout the year including birds, mammals, botany, geology, and astronomy facts.
• NEW - Knowing the Trees: Discover the Forest from Seed to Snag is an engaging and beautifully illustrated guide to a forest's life cycle and includes a wide range of natural history and facts about types of forests, tree species, tree biology, and more. Full-color illustrations throughout and Seeds of Knowledge sidebars enliven and deepen understanding of tree science.
*Ken Keffer's career has been spent highlighting the importance of nature and encouraging people to explore the outdoors. As an award-winning environmental educator and author, Ken has penned ten books for both youth and adult audiences. Keffer received a National Outdoor Book Award honorable mention for The Kids' Outdoor Adventure Book. His latest projects Earth Almanac: Nature's Calendar for Year-Round Discovery and Knowing the Trees: Discovering the Forest From Seed to Snag, are celebrations of the overlooked natural world. He is a regular contributor to Birds & Blooms magazine and The Nature Conservancy's Cool Green Science. Ken is currently President for the Outdoor Writers Association of America. He recently put down roots in Bloomington, Indiana, where he and his wife Heather Ray own that city's Wild Birds Unlimited nature shop.
10:00 am - 1:00 pm, Learn about American Natural Premium Dog Food with representative Launa Blythe
• Take home free pet food samples
• Get special discounts on bags of dog food.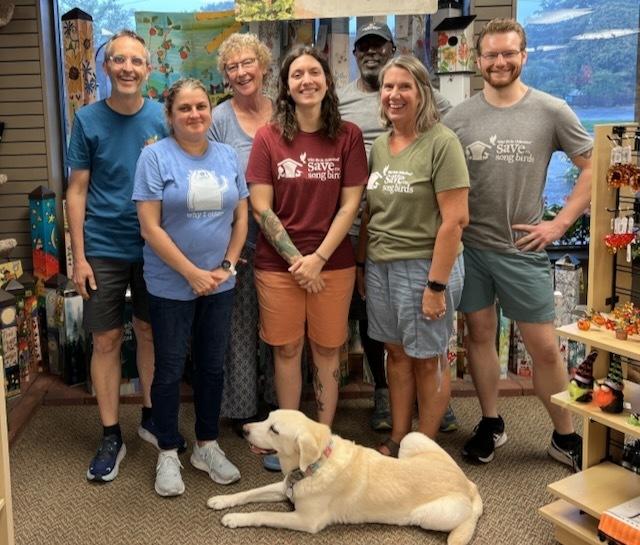 Our WBU family - over 110 years of experience!
Front: Aurora the Labrador
Middle: Sarah, Annie, Tiffany
Back: Wade, Meg, Rick, Seth